Romance Reviews Today April 2009
**The Sacred Well By Antoinette May -- pub: Harper Collins.
" THE SACRED WELL is brilliantly told --- a story of love, devotion, and honor.
A fictional account of the real Alma Reed and Felipe Carillo Puerto, THE SACRED WELL is lush, romantic, and filled with emotion.
---
Publisher's Weekly December 1, 2008
**The Sacred Well By Antoinette May -- pub: Harper Collins.
"May (Pilate's Wife) tells the story of two American reporters from different eras caught up in Mexican intrigue. In 1923, real-life reporter Alma Reed exposed the theft of Mayan artifacts from the Yucatán, leading to an affair with the governor and the ire of local reactionaries. May's fictional modern-day reporter, Sage Sanborn, is a travel writer on a Yucatán junket enticed to tell Reed's story by a mysterious American she meets in a bar. Their explorations and ensuing affair echo Reed's exploits
---
Mainstream Fiction December 2008
Antoinette May Harper, Mar 24 2009, $14.99 ISBN: 9780061695551.
"SACRED WELL is an intriguing premise of an American female reporter investigating the true life story of Alma Reed. The two subplots eight plus decades apart are fascinating to follow. Fans will enjoy this fine tale of a modern American journalist searching for what her counterpart found in 1923 in the Yucatan." Harriet Klausner Mainstream Fiction.
Helen Hunt Jackson:
A Lonely Voice of Conscience


Adventures of a Psychic



42 weeks on NY Times List
The Yucatan
Travel Guide to the Land of Maya Mysteries
Sacred Sites at Belize, Tikal & Copan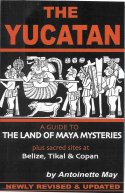 Mexico for Lovers:
Romantic Inns of Mexico


Haunted Houses of California :
A Ghostly Guide to Haunted Houses and Wandering Spirits


Voices of Seattle: Speaking Out from the City by the Bay